Besides trekking, cultural tour and jungle safari there are many other adventure attraction Nepal offers like mountain flight, Bunjy Jumping, Paragliding, Ultra-light flight, Zip-flyer, Mountain biking, Golfing, Canoeing ,documenting and filming, event management, and cable car. Be a part of thrilling adventure- a life time experience.
We would like to heartily invite you all to experience a dream vacation with us. We assure you of our prompt acknowledgment to all the inquiries. We strongly believe that our reputation lies in the future but not in the past.
Please feel free to suggest us your requirements and preferences. We will definitely get back with the best suitable travel plans for you.
Mountain Flight
A mountain flight is comfortable preference to a mountain experience. Travelers can have a close view of the tallest mountains, including Mt. Everest, Mt. Cho Oyu, Mt. Lhotse, Mt. Shishapangma, Mt. Dhaulagiri, Mt. Annapurna, Mt. Manaslu and many other peaks in the Himalayas.
Adventure enthusiasts can experience excitement of a bungy jump near the Nepal-Tibet border in Sindhupalchowk district.
Rafting
Nepal is rich in river that emerges from the greatest Himalayan that follows all the way to the low terrain level of Nepal. The most thrilling adventure is Rafting in Nepal as the rivers of Nepal descend faster than most rivers on the planet, giving a thrilling and jaw dropping experience of all time. Some of the rivers are really dangerous though applying the safety measures it makes the rapid most exciting.
Paragliding
Paragliding is another new adventure activity. This is considered to be the simplest, safest and least expensive way of discovering the joys of flying and experiencing the aerial views of the splendid mountains from Sarangkot of Pokhara.
Pokhara also offers lifetime experience of ultra-light flight and Zip flyer to adventure enthusiasts. They can have a breathtaking view of the lakes, forests, mountains and villages during the 30 minute flight. Zip flyer is yet another stimulating adventure sport.
Zip Flyer
One of the most attractive adventure activities in Nepal is Zip Flyer. This has been attracting many tourist from across the world. The longest Zip Flyer is in Pokhara city which starts from the 1625 meters in Sarangkot and ends at 960 meters in Hemmja Plain. The view of the Annapurna Himalayan range would add thrilling and the most exciting experiences to this activity.
Mountain Biking
Nepal is also one of the best places for mountain biking due to her topographical diversity. Bikers can visit the countryside and discover villages and small town amidst rural serenity.
Golfing is equally gaining popularity in Nepal where there are some of the best golf courses in South Asia.
Adventure lovers travel down canyons and waterfalls applying several techniques such as walking, scrambling, climbing, and swimming. There is a cable car facility between Kurintar of Chitwan and Manakamana Temple of Gorkha also Chandargiri Hills in Thankot.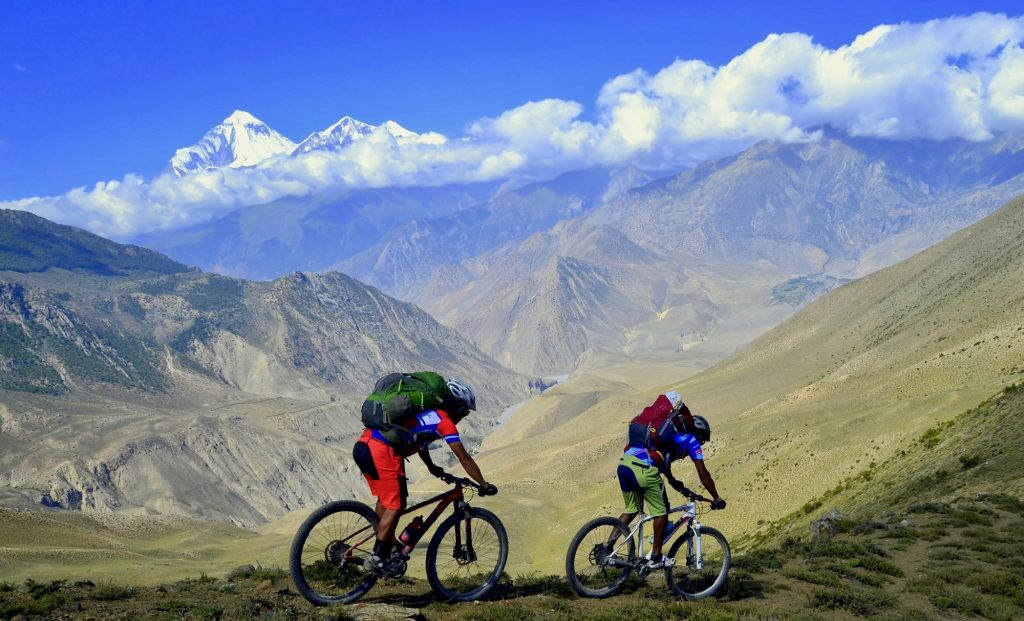 Heli Tour
Heli Tour is another adventurous activities to experience in the lap of the great Himalayas. Helicopter tour is the unique way of exploring the beautiful Himalayan country, Nepal. It is especially suitable for all age group and also the great help to those who are differently-able but willing to explore the beauty of the great Himalayan. Raaika Tours and Treks arrange the best Heli Tour in Nepal with an assurance of the great experience to collect.
A helicopter tour can be an ideal choice as it provides the dream comes true moment for those who dream to explore the different attractions. In this Himalayan country, you can have different scenic flights for exploring beautiful mountain panorama, city areas, lakeside, green hills, Himalayan glaciers, national parks, and many more mysterious and remote destinations with Raaika.