Trip Overview
Named after the much-revered Goddess Kali and descending from the deepest gorge in Asia, this fabulous river (class 3 to 4+) offers a mixture of astounding mountain views and pure adrenaline with a full immersion into the wilderness.
Along the way you will encounter culture at its simplest. If you're lucky, traditional Magar and Chetri villagers will venture down to the riverbank to witness your journey through the remote mountain wilderness of Nepal.
Outline Itinenary & Map
Client Review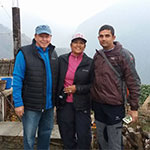 R R Ramkrishnan
Visited on 2nd September, 2019
Our family (9 pax) came for vacation to Nepal on 7th of August 2004. The Tour Experience was excellent! Pakka. The service company (Raaika) provided to us was more than we expected, they provided us transport facilities complimentary to few places, which we decided to visit on our arrival only. Their welcome on our arrival at the airport made us feel really comfortable. Through out our trip we were taken care of. Stay in Pokhara, walk to lakeside market, the early morning Mountain Flight in Kathmandu and visit to Bhaktapur all was exciting and nice.
View All Testimonial
Write A review
Trip Facts
Trip Starts From:

Kathmandu