Trip Overview
Rafting in longest river of Nepal flowing through steep, jagged canyons with rapids tightly packed, offering continuous challenging water at all flows. Either a bus ride to far-western Nepal or flight will take us to this river. The river section takes about 7 days to navigate, even as you explore canyons and waterfalls. Start with the panoramic remote area easy to access from Surkhet. It is bonus for the river as the world's leading resource for off-the-beaten path – iexplore has recently marked it in seventh place in whitewater rafting category.
Client Review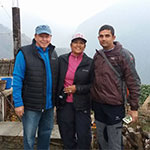 R R Ramkrishnan
Visited on 2nd September, 2019
Our family (9 pax) came for vacation to Nepal on 7th of August 2004. The Tour Experience was excellent! Pakka. The service company (Raaika) provided to us was more than we expected, they provided us transport facilities complimentary to few places, which we decided to visit on our arrival only. Their welcome on our arrival at the airport made us feel really comfortable. Through out our trip we were taken care of. Stay in Pokhara, walk to lakeside market, the early morning Mountain Flight in Kathmandu and visit to Bhaktapur all was exciting and nice.
View All Testimonial
Write A review
Trip Facts
Trip Starts From:

Kathmandu