Oh, Poonhill, You are Amazing
There is something about winter mornings I tell you. Cold wind gushing through makes your fingers go numb however as the warm tea settles in huh… there's no other feeling better than that trust me.
Not much of a Chiya person in another word a passionate tea lover, however, the moment makes you appreciate chiya as much as you appreciate that warm ray of the morning sun. Trekking for the first time in the Himalayas was undoubtedly an adventure of its own which I was very much excited and looking forward to.
The morning started at around 5 am I'm a not so morning person and in this cleared summit, how could you not wake up to a warm and cheerful wake - up call (more of a knock) from Sunil Dada and Dawa Dai. I was accompanying our Korean team of 18 guests led by Gyanu Sir with our Head cook Rabindra Dai. An amateur myself among the other trekking gurus, I must be lying if I tell you that I wasn't nervous. But I reckon my enthusiasm got the best of me and with a deep breath started the journey towards PoonHill. The first day and my legs were doing the talk literally and that was nonstop walking up the trail.
The target of the day: No complaining and yes reach Ghorepani! The initial trail felt good for the legs and the trail uphill welcomed with beautiful views of the lush greens. Stopping now and then for Chiya was the highlight of the day as I could get an excuse to rest my tiring body. Slowly came to realize that greeting Namaste to every other fellow trekkers was a trend and yes greeting strangers never before this meant so fun! Stopped for lunch at Tikhedhunga. Was astonished to see Rabindra Dai and team already ready to serve yum Korean dishes, and could I emphasis more on the YUM part, please?!
Setting the table was fun, learnt the trick from Dai's and everybody made sure that our tummy was happy, and boy indeed they were! After lunch, the trail continued for another four hours uphill and finally reached Ghorepani or moreover a snow land. For someone who had never seen snow let alone played with it, I was free like a bird running around in my Lala Land. Small village seated uphill welcomed you with a big tight hug from a long lost friend.
It was evening by then and we entered our lodge and were allocated to our rooms. Eight hours of the walk had got the best of me however something about the place, the people made me going. Enjoyed our dinner and warm tea together and yes felt good to have a warm blanket waiting for me. First night and for a moment I could not feel my legs, not in a bad way though. There was something about the pain that made me enjoy moreover the pride of not giving up and yes was time for my beauty sleep and off we go…
Morning knock came at 3:00 am as had to wake up for a panoramic sunrise view from Poonhill. It was still dark and cold but the excitement to reach was beyond words. 45 minutes of the walk straight uphill stopped at 3,210m and that was I awestruck. The Himalayas oh so close: Beautiful Dhaulagiri, Annapurna mastiff and how can I forget my favourite Machapuchhre.
The sunrise was magical and oh so beautiful it made me cry (happy tears though). If there must be heaven would picture this viewpoint overlooking the Himalayas, green hills and the first ray of sun fueling my mind, body and soul. Made the most of the little photography skills I had and with a big happy heart returned to the Lodge. My morning room view couldn't get any better which offered an amazing background of the mystical Himalayas. After breakfast, we continued our trail down towards Chuile. This day it had started to rain and was snowy so had to be careful. For a clumsy person like myself needed to pay extra attention, would be uncool to say I didn't fall.
On the way, the view of the Himalayas continued greeting us. And who said you can't shop while you trek. Souvenir shops welcomed you here and there with local handicrafts. Finally reached Chuile with a happy leg today. My body was getting used to with the trail at last. Dinner as always was served by Rabindra Dai and team and I reckon yum would be an understatement by now, so I'll just leave to food (for now). Fell in love with the lodge to be specific a cute little puppy. Had a great time with him playing around and with our guest's chit-chatting. Was time for my bed now and was looking forward to tomorrow.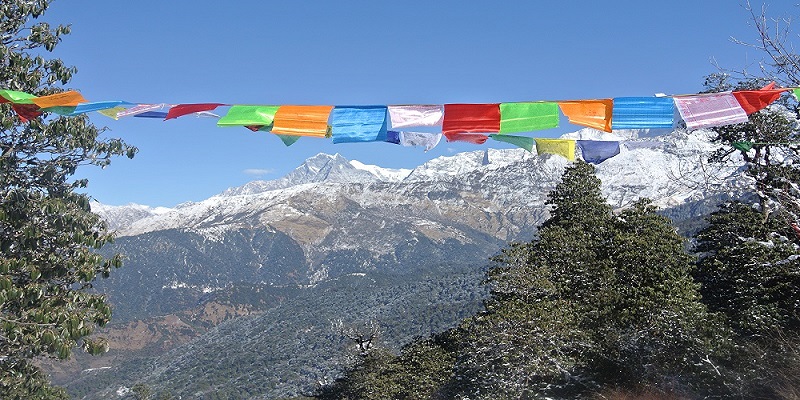 Next morning continued the trail towards Chomrong. Crossed suspension bridge which fascinates me every time. Our guests were loving every moment of it, never missing a chance to pose at every other corner. Stopped for lunch at Chomrrong. If you continue trail up from Chomrong that's where ABC welcomes you.
However, this time my path was downhill towards Jhinu Danda. Bidding farewell to ABC trail promising to return back soon and went downhill towards our last stop for the trek Jhinu Danda. The modern accommodation at Jhinu Danda is seated around lush green meadows and I was very excited to relax at Natural Hotspring which was a short 20-minute walk. Finally, there comes the Hot Spring. There are two small pools where you can soak in and relax. Went into the extreme end of the pool, closed my eyes with the sound of the waterfall right beside…and do I need to say more?! I ended up being there for an hour during which time I recollected all the memories from the trek.
And I asked myself would I go back and do it again? And with a happy smile a thousand times over...  
Author Ayesha Shahi